Wholesale Auto Tire Services in Kinston, NC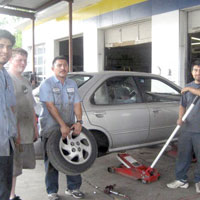 Davis Wholesale Tire offers many auto tire services for your needs in Kinston, NC. We can do anything from installation to repairs to rotation and sales. Stop in and see what we have to offer.
Sales
Davis Wholesale Tire, we will turn your tire shopping experience into a personalized one, helping you select the best tires for your vehicle and budget. We can custom order tires for specific needs and will order any out of stock items to arrive as quickly as possible. We can educate you on the features of each tire you're considering to help you make the best decision and will provide friendly, prompt service at every point of your purchase. If you are simply buying a spare which you don't need installed immediately or prefer installing them yourself, you can simply take the tires home.
Installation
We can install one, a couple, or all four new tires on your car in a short period of time. Once you choose your tire products, we will install them the same day as long as they are in stock. We put your car up on a lift, remove the old tires, align and secure all the new tires, and get your car back to you. We inspect them to ensure there are no defects and check tire pressure before you leave. The time it takes for installation will vary depending on how many tires you need, but Davis Wholesale Tire strives to get every customer in and out as quickly as possible.
Repair
Things can happen on the road or in parking lots to tires regardless of their age—punctures from a nail, potholes, accidents, and leaks. Sometimes you can get the tire repaired rather than replacing it entirely. We are able to patch small holes, put in new tubes, and reseal leaks. We can also straighten bent wheels. If you tire does need replacing, we can do that right away and get you back on the road.
Rotation
We also rotate your tires for you. It is important to get this done every 6,000 miles. This will insure even tire wear, getting you the most miles out of your tires while maximizing traction on all four wheels. This process only takes an hour or less.
Pressure Check and Adjustment
Davis Wholesale Tire can also check your tire pressure if it does not feel quite right and make adjustments as necessary. We can add or let out air to ensure you tires are performing optimally. This takes a matter of only a few minutes.